ARGO Content Generator 30% OFF
The tool loved by professional SEO's and internet marketers around the globe! Everyone knows this simple fact: the more sites you got, the more traffic you receive and the more traffic, the more sales you get. If you are making money online with advertisement in any form, then this tool is for you. Build private networks (PBNs), Affiliate websites, MFA, Doorway, Landing pages and much more - all fully automated! You can create content rich websites with thousands of pages in literally seconds. promote products faster and easier than ever before.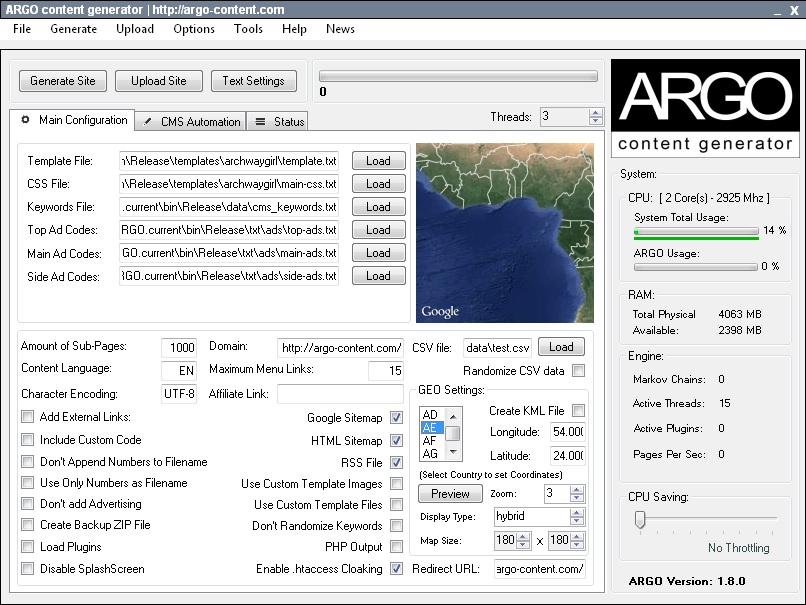 Content Generation

Markov Chains

Exclusive Pseudo Markov for more readability

Thesaurus Synonymization for almost any language

Additional custom User created Thesaurus support

Nested Spintax

Randomized Interlinking

Keyword Permutation

Smart backlinks distribution within the text

Comes with over 30 ready to use themes

Easily use any existing Theme or Website Template

Dynamic placeholder system

Create Sitemaps (HTML and Google Sitemap) and RSS feeds

Professional Website Scraper with xpath and regex support

Google Text and Youtube Video Scraper

Auto generate complete CSS design

Randomized and controlled Keyword distribution within titles and text

Add selected pictures,videos or code randomly into content

Upload generated sites directly to your server

And many more features!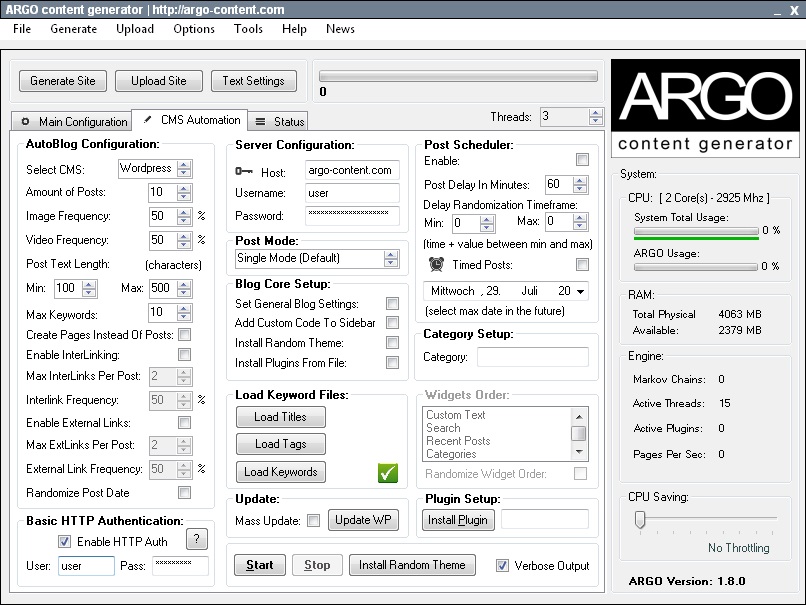 Wordpress Auto Blogging in Steroids
With this software you can also fully automate the creation of Wordpress blogs. The program can install and configure Wordpress on your servers, install themes and plugins, create posts/pages/categories all on autopilot.
Configure general settings, permalinks, widgets and themes

Easily installs and activates new themes

Create posts or pages

Keywords and tags randomly selected from files

Include images and video within posts or pages

Automatic interlinking

Automatic plugin installation from a list of plugins

Automatic wordpress update on unlimited amount of wp-installs

Automatic server side wordpress installation in < 1min

Mass mode - posting to multiple sites at once

Article mode - post articles to either a single blog or a list of blogs.

Scheduler to create posts after a defined amount of time

Scheduled timed posts in the future (no need to keep argo running)

Automatically add code (affiliate banner, tracking code etc) into sidebar text widget

Categories creation

Optimized markov and spintax handling

Automatic widget configuration and order

HTTP Authentication (htaccess) support

Much more features!
State of the art Article Scraper and Auto Spinner included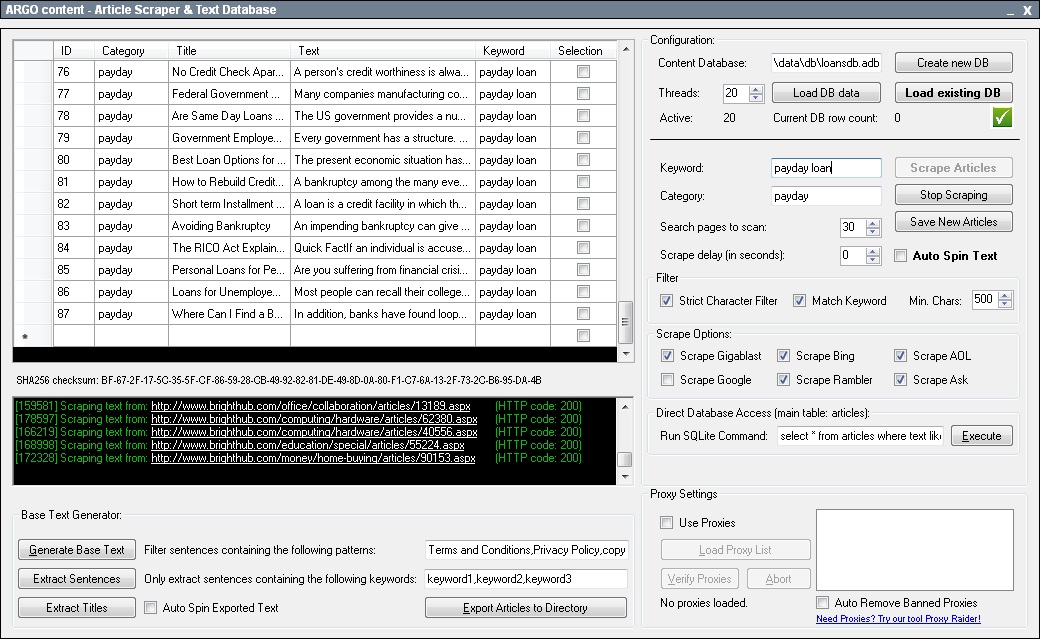 Article scraper and AUTO SPINNER with INTERNAL synonym and phrase databases! That means you don't need any service like Spinnerchief or Word AI, ARGO can scrape and turn articles into spintax easily. The scraper can gather articles and store them in an internal SQL database for later use (no need for an external database server, its all handled by a single application).

Incl. Auto Spinning in English, Russian, German, Spanish, Dutch and Polish (more to come) WITHOUT THE NEED FOR ANY EXTERNAL SERVICES!

Watch the demo video to see the scraper in action:
- Reviews:
Want to see more reviews?
Click here
Click here to see the sales thread on BlackhatWorld.com
Purchase
A single license is $260
$182


+ Taxes one time and comes with free updates!
Now you can get it 30% OFF with code: BF2023
You can order your license here:


BONUS: Pay with PayPal and get the Keyword scraper plugin free on top, just send an email after purchase with the transaction ID to get your free copy!
---
ARGO Plugins
ARGO Content Generator has a plugin system to load additional functions into the main application. It comes with a few free plugins, but there are also some commercial plugins such as an advanced image scraper and keyword scraper. For BlackFriday you can get those plugins also 30% off! Find out more on the plugins page: ARGO plugins


---
ARGO AI Article Creator (Lifetime) - 50% OFF
Our state-of-the-art AI software uses deep learning algorithms to generate articles quickly and accurately. It can identify the topic, create original content based on your preferences and also paraphrase existing content to make it new and fresh. Running out of topic ideas? We got you covered, easily generate 100s of titles just from 1 keyword. Pick the ones you like and let the software generate an article for every title, or simply let the software do everything on autopilot. All you have to do is provide a keyword (or a list).

Works perfectly together with our tool ARGO Content Generator which can post the generated articles to Wordpress or create static HTML sites. We also have a bundle deal on top for both tools combined ("AI SEO" Bundle).
Fully Automatic AI Article Creation

+20 Advanced Prompt Templates

Multithreaded

Scraping of Images and Videos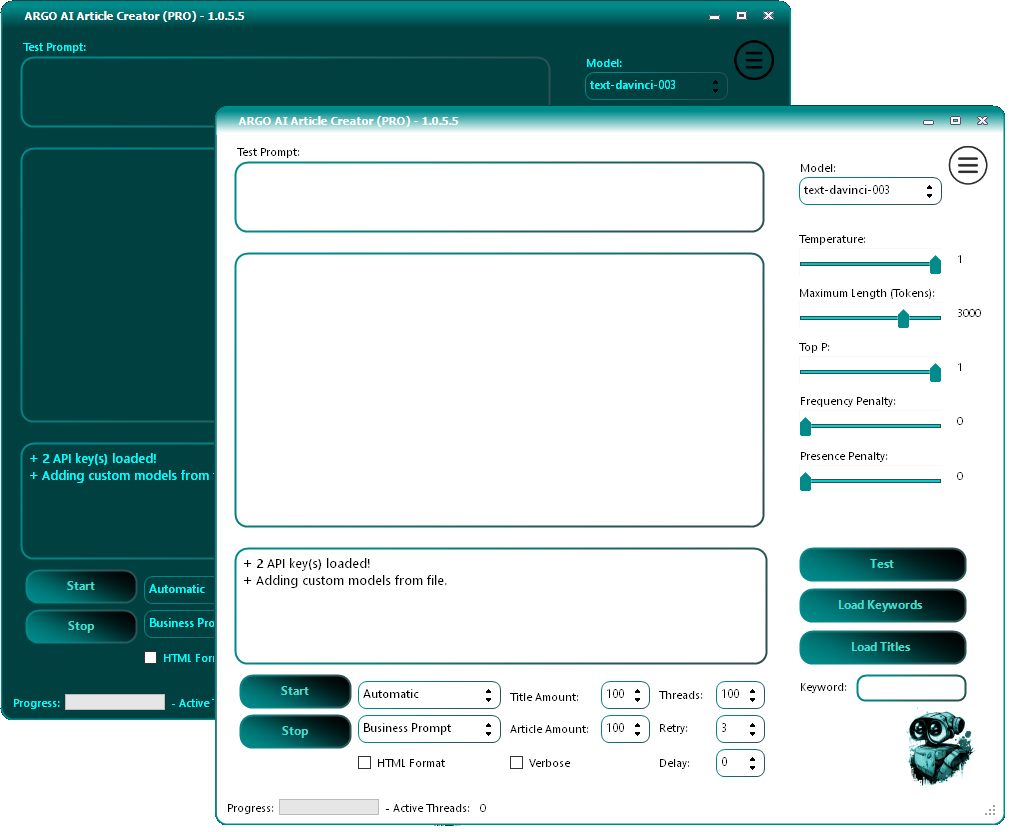 Purchase
For black friday you can get 50% OFF the lifetime version at
$249

$499
one time, no subscription +free updates!
You can order your license here:


---
ARGO Backlink Bot - 30% OFF
The ARGO Backlink Bot (ABB) is a easy to use backlink solution. Unlike other tools that require a lot of configuration steps, this bot makes it as simple as possible to quickly gather backlinks to your website(s). Of course you can also use it for tiered linking, or to create linkwheels. This bot was specifically created for use along with ARGO content generator to help in indexing PBNs and getting them ranked faster. The bot can work in 2 modes – using a scraped link list, or by scraping targets on its own.
Supports Over 25 Backlink Platforms

Automatic Platform Detection

Multithreaded

Internal URL Scraper

No Need For Own Emails, Verification Is Fully Automated

HTTP Proxy Support

Pure Sockets Implementation, No Insecure Webbrowser Controls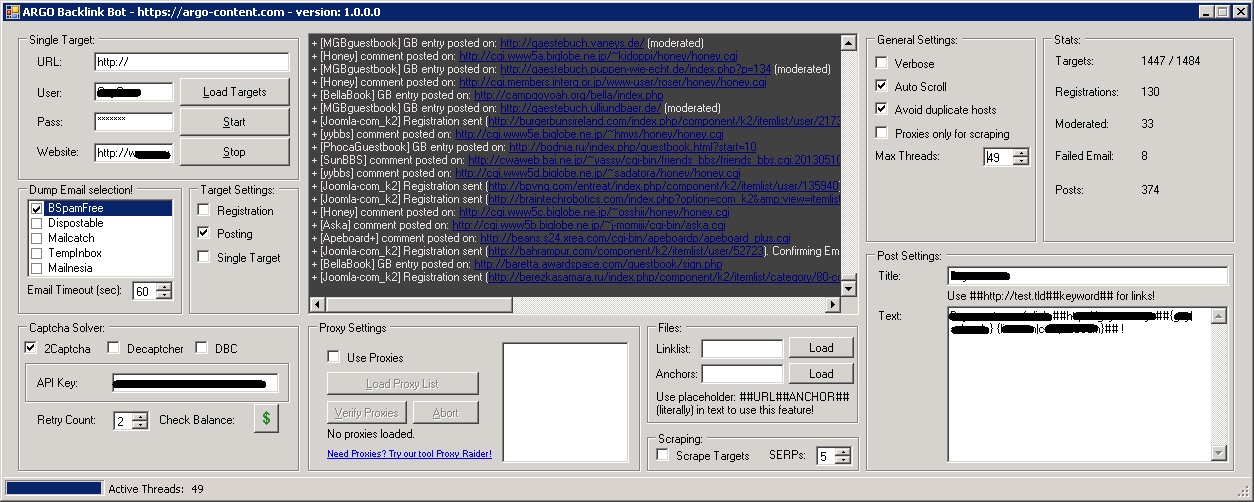 Usage
Mode 1 – Linklist:
If you scrape your own url list, then you can load it into the software and ABB will use the supplied urls and try to post to them. The bot can locate comment and registration forms on its own, no need to point it directly to the page with the forms like in other bots.

Mode 2 – Scraping:
If you don't know how to scrape urls, or you simply don't want to, you can use the included scraper that will gather links automatically. Just enable the "Scrape Targets" checkbox and select how many search result pages deep should be crawled. That way the bot will run through several search engines such as Google, Bing, Rambler, Ecosia and more to find potential targets. You can find (and edit) the footprints it uses as well as the wordlist too of course. It scrapes in the format of "footprint + word".

Demo Video:


Purchase
A single license is $149
$104.30


+ Taxes one time and comes with free updates!
Now you can get it 30% OFF with code: BF2023
You can order your license here:


---
FinalCloak - 50% OFF
What is FinalCloak?
FinalCloak is a high-end cloaking solution for users already familiar with cloaking (though in theory its easy to use/learn). It is using a new method to detect spider bots that no other cloaker on the market is currently using! Its been in use since 2014 on literally thousands of domains by a trusted user base and sofar non of the sites were banned.
How does it work?
Other cloakers rely on IP lists that require updates and FinalCloak makes that obsolete by creating the list dynamically on its own. It does that by explaoiting certain rules that all "friendly" search engine bots follow by design, otherwise they get labeled as "bad bots" which non of them want, not even google. There are also many watchdogs who monitor spider behaviour, so they have to follow certain rules. FinalCloak is using those to detect bots before they even reach the website and can so redirect bots and users to different landing pages. The exact details on how it works exactly stay secret for obvious reasons ;) Usually the IP list is the point that makes other cloakers unreliable at times, as 1 new bot IP that isn't in the db can lead to the cloaker being detected. It can also redirect based on a list of keywords to multiple affiliate landers since the last update!
How to use it?
Its self hosted and pretty simple to use if you worked with PHP scripts or Wordpress plugins before. It comes in 2 versions (both included), one is a easy to use plugin for wordpress and the other a standalone PHP script that can be included in any PHP based website. Its working with any Apache based hosting (but can be adapted for other httpds too, however support is only available for Apache). The software works with PHP5 and PHP7 !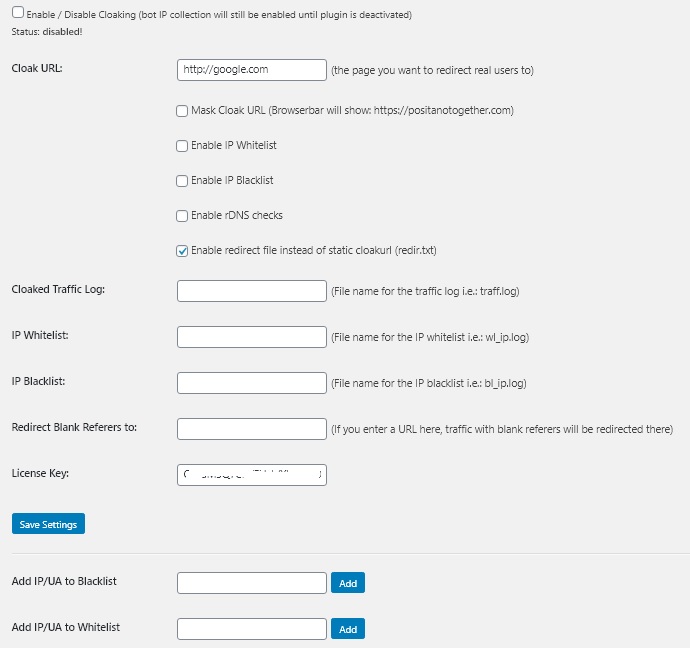 How much does it cost?
IP list updates for cloaking are not cheap and subscription based, for example the old market leader shadowmaker costs about $3500 along with a yearly subscription to get IP list updates for $350. FinalCloak has a onetime price of $1000

499 euro

for BlackFriday and does not require any subscription (and you can use it on all your own domains, but group buys are forbidden and get banned, so please respect that). That means you can safe a big chunk of money! (This is what some cloaking services charge monthly!)
How to purchase?
Normally this software is private and only available to ARGO Content customers, for BlackFriday its shortly available to the public! After payment is made, just send an email to support@argo-content.com with the title "final cloak purchase" and include the transaction ID from PayPal. We will then send you your license and download link within 24h.

Please don't hesitate to email us, if you should have any questions!
---
Proxy Raider - Next Gen Proxy Scanner and Scraper 30% OFF
Fresh google verified proxies at your fingertips, whenever you need them. Proxy Raider is a super fast proxy scanner and scraper. It can find and verify hundreds if not thousands of proxies in a few minutes. To locate proxies it will scrape a list of pre-defined proxy sites (that can be extended freely), or use Google to search and scrape proxy IP's. Once found it will verify if they work, how fast they are and what GEO location they have.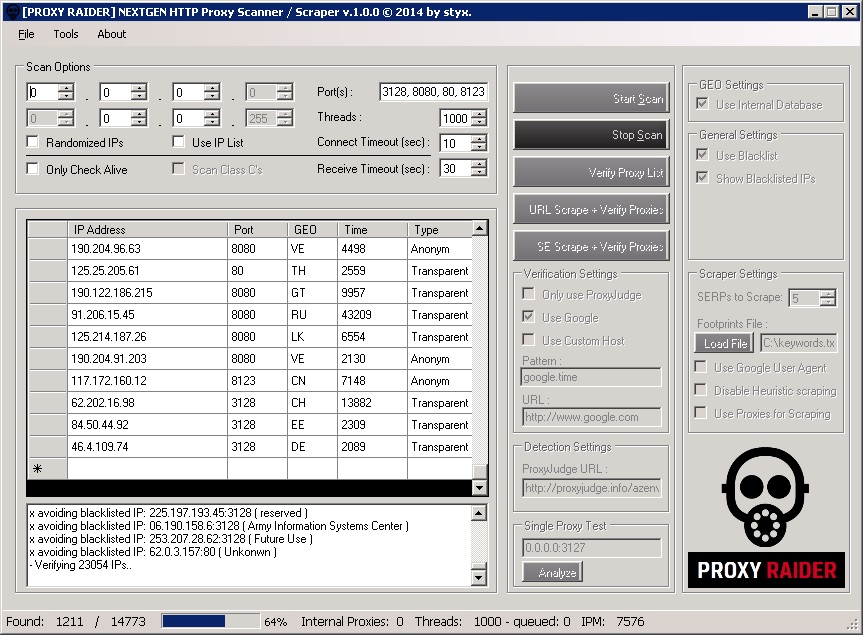 Scanning of class A to C IP ranges for an unlimited amount of ports

Ability to scan each class C of a loaded IP list for additional proxies

Unique randomized IP generator to scan for proxies

Scraping of proxy IP's from websites (proxy lists)

Search Engine Scraping of sites that list proxies (and extraction + verification of IPs in one process)

Heuristic scraping: de-obfuscation of proxy IP+port on websites that use javascript to hide the data

Javascript unpacker (sandboxed)

Verification of proxy lists against Google or custom sites

Verification of private proxy lists that require authentication

Ability to use internal proxies for scraping

Proxy type (Anonym/Transparent) and speed analysis

Internal GEO IP database

Multithreads (unlimited)

Pure sockets implementation, no insecure webbrowser controls

Blacklist of IP ranges to avoid (mostly .gov and .mil)
Purchase
A single license is $39
$27.30


one time and comes with free updates!
Now you can get it 30% OFF with code: BF2023
You can order your license here:


---
Expired Domain Spider - 30% OFF
The Expired Domain Spider is easy to use and can even be used by beginners. Finding Expired Domains has never been easier, just let the program collect domains for you and filter them based on your desired keywords. Wether you need a domain to kickstart your SEO efforts or multiple to build a PBN, this tool will help you out. Other Software Solutions Require a Subscription, the ARGO Expired Domain Finder is a Onetime Only Payment! Watch the demo videos to see the software in action:
Expired Domain Scanner Demonstration
Expired Domain Web Spider Demonstration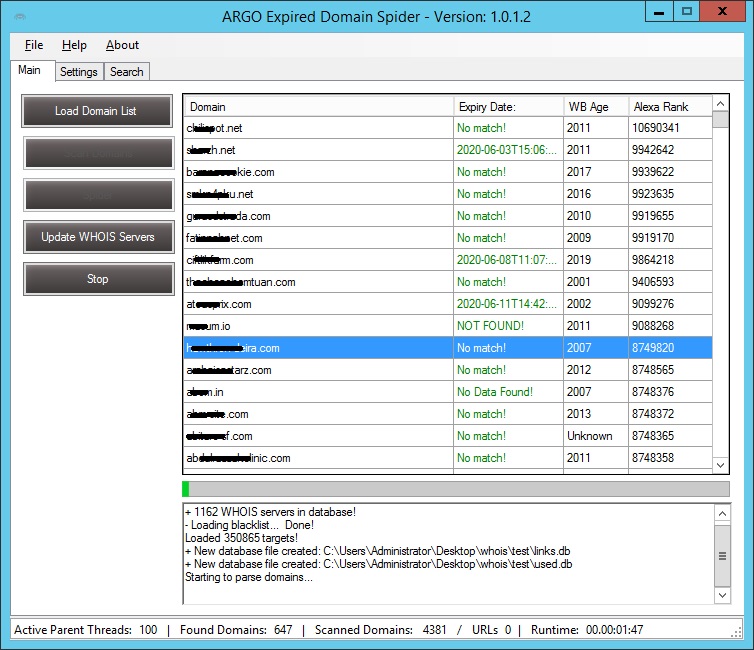 Purchase
A single license is $120
$97


one time and comes with free updates!
Now you can get it 30% OFF with code: BF2023
You can order your license here:

Private PAA Scraper - Limited Time Offer!
The PAA scraper allows you to get hundreds of thousands of PAA (People Also Ask) from Google and others. You can either scrape clean text or preserve the original HTML. This content can help you rank quickly for questions that people actually search for. Get more traffic and boost your SEO game! Normally this tool is only privately available to our customers, but for the first time we open the doors for the public. This offer is limited and it will go private again after black friday 2023 for an undefined amount of time!
Features:
Multithreaded PAA Scraping Based on Keywords (Pure Text or HTML)

Multithreaded Keyword Scraper for Google, Ask, DuckDuckGo, Yahoo and Ecosia

FAQ Schema Markup Support (Automatically Created

SQLite Database to Store PAA Data

Internal Auto Spinner - no Need for External Services! (Supports English, Spanish, German, French, Dutch, Polish and Russian)

HTTP Proxy Support

Various Export Formats
PAA Scraper Demonstration
Note that this video is from the first version it has since had many new features added.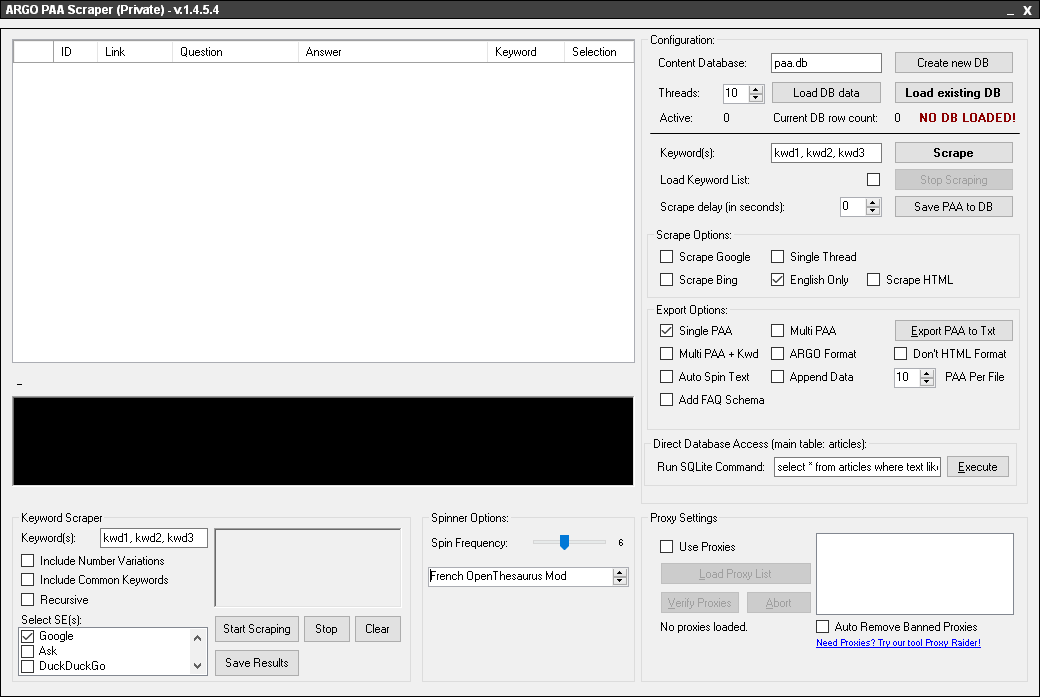 Purchase
A single license is $400
$300


one time and comes with free updates!
You can order your license here:


The PAA Scraper will be delivered within 24h after purchase (usually much faster). Since it is normally private there is no automatic delivery like with the other tools. If you would like to pay with crypto, just contact support @ argo-content.com !