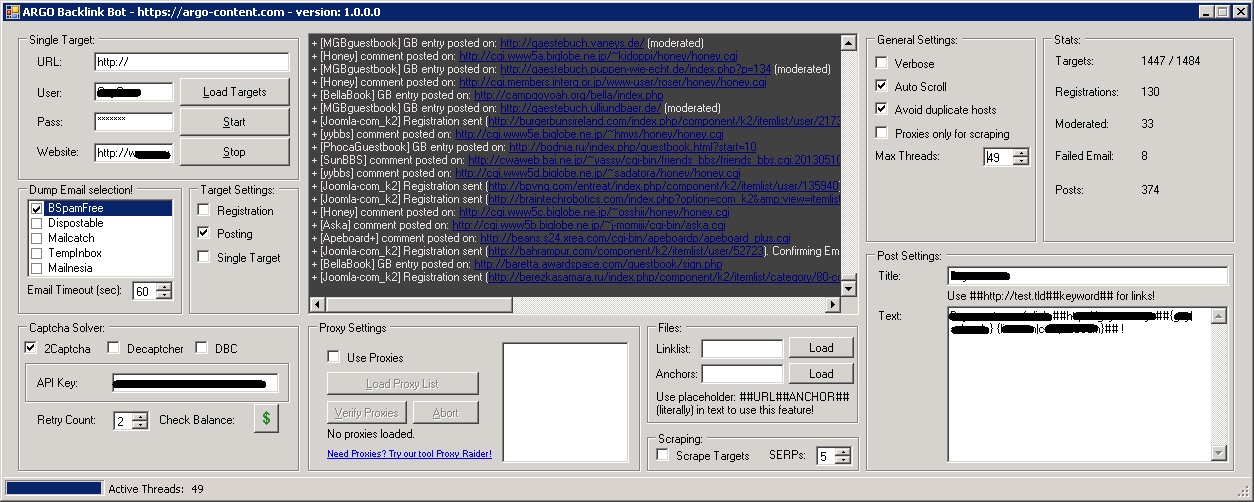 The ARGO Backlink Bot (ABB) is a easy to use backlink solution. Unlike other tools that require a lot of configuration steps, this bot makes it as simple as possible to quickly gather backlinks to your website(s). Of course you can also use it for tiered linking, or to create linkwheels. This bot was specifically created for use along with ARGO content generator to help in indexing PBNs and getting them ranked faster. The bot can work in 2 modes – using a scraped link list, or by scraping targets on its own.
Main Features
Supports Over 25 Backlink Platforms
Automatic Platform Detection
Multithreaded
Internal URL Scraper
No Need For Own Emails, Verification Is Fully Automated
HTTP Proxy Support
Pure Sockets Implementation, No Insecure Webbrowser Controls
Usage
Mode 1 – Linklist:
If you scrape your own url list, then you can load it into the software and ABB will use the supplied urls and try to post to them. The bot can locate comment and registration forms on its own, no need to point it directly to the page with the forms like in other bots.
Mode 2 – Scraping:
If you don't know how to scrape urls, or you simply don't want to, you can use the included scraper that will gather links automatically. Just enable the "Scrape Targets" checkbox and select how many search result pages deep should be crawled. That way the bot will run through several search engines such as Google, Bing, Rambler, Ecosia and more to find potential targets. You can find (and edit) the footprints it uses as well as the wordlist too of course. It scrapes in the format of "footprint + word".
Purchase
A single license is $149 + Taxes one time and comes with free updates!
You can order your license here: