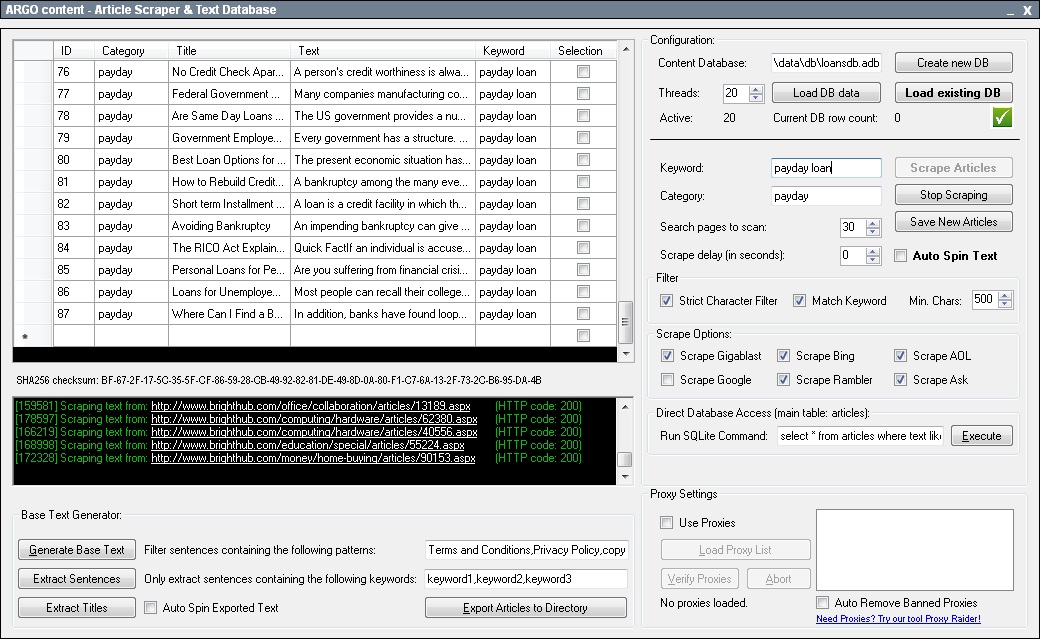 The included article scraper allows you to easily scrape hundreds of articles and extract text + titles for later use, either for a ARGO website, or anything else you need it for. Now you can easily gather tons of targeted and niche relevant content whenever you need it. The scraped text can also be synonymized by turning it into spintax on the fly and without the need for any external service like spinnerchief, or wordAI. These services are expensive monthly payments and limit you to something like 1000 spins a day. With our software you can now spin as much text as you like! With the latest update we've included thesauri (synonym databases) in multiple languages! Currently supported languages for automatic spintax creation are: English, Russian, Spanish, German, French, Dutch and Polish.
The scraped text can then be stored in an SQL database, but without the need for any external database servers. Everything is done internally by the application and the complete database handling is done by ARGO content, you don't have to worry about anything. Everything is easily saved with a click and can be retrieved in seconds.
Fully readable content for your ARGO websites or any other tool you need niche relevant text for. The scraped text can also be quickly edited with the included article editor. It can also apply regular expressions to the text and spin it according to the selectd spin frequency.
On our video page you can see a demonstration video of the article scraper in action!